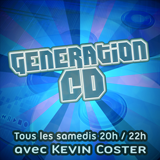 REM, Tom Petty, Robyn, Tokyo Ghetto Pussy,... Retrouvez la programmation complète de l'émission du 21 Novembre 2015 !
Chaque samedi soir, Kevin
Coster vous donne rendez-vous pour un voyage dans le monde des années 90.
Vous avez raté l'émission ou vous avez entendu un titre dont vous voulez avoir les références ? Jetez un œil ci-dessous !



20h (Génération CD Pop/Rock)

Genesis - No Son of Mine
Emma Bunton - What Took You So Long
Big Mountain - Baby I Love Your Way
Aerosmith - Dream On
Radiohead - Creep
Jamiroquai - Alright
Moby - Natural Blues
Tom Petty & The Heartbreakers - Don't Come Around Here No More
Ten Sharp - You
The Corrs - So Young
Mariah Carey - Without You
Robyn - Do You Know
Semisonic - Secret Smile
REM - Losing My Religion

21h (Génération CD Dance)

Lisa Lisa & Cult Jam - Let The Beat Hit 'Em
2 In a Room - Wiggle It
Felix - Don't You Want Me
2 Unlimited - Twilight Zone
Leila K. - Open Sesame
Culture Beat - Anything
Magic Affair - Omen III
Dune - Hardcore Vibes
Tokyo Ghetto Pussy - I Kiss Your Lips
Captain Hollywood Project - Flying High
Interpool - Forever Young
Charly Lownoise & Mental Theo - Your Smile
De Bos - On the Run
Ice MC - Think About The Way

Retrouvez Kevin Coster chaque samedi entre 20h et 22h sur UpRadio.